The old axiom of what goes up must come down, is particularly fitting right now for fuboTV (FUBO). The sports-focused streaming platform came hurtling out of the gates following its public debut in October, with shares increasing more than five-fold in little over two months.
However, over the past 7 days, the stock has handed 37% of the gains back to the market. A sell-off was only to be expected after such an implausible run-up, but the dump has been particularly eye-catching.
One analyst, however, thinks this lower stock price could offer new investors an opportunity to get into FUBO on the cheap.
Roth Capital analyst Darren Aftahi rates the stock a Buy along with a $55 price target. The implication for investors? Upside of ~42%. (To watch Aftahi's track record, click here)
"We believe FUBO continues to be one of the best ways for investors to gain access to the cord-cutting dynamic and continues to be substantiated by recent pricing increases among SVODs (both Netflix (NFLX-NC) and Disney+ (DISNC) raising prices in recent months)," the 5-star analyst said. "We believe the overall market trend of cord-cutting, along with FUBO's growth initiatives should lead to a higher subscriber outlook for 1H21."
According to recent market research from Antenna, FUBO has been taking market share from larger vMVPD's (virtual multichannel video programming distributors) such as Hulu and YouTube TV. Its market share increased in October and November by 100 and 200 bps, respectively.
While Aftahi's FY21 total subscriber estimate of 685,000 remains the same, the promising data results in the analyst raising his FY22 sub count estimates by ~2% to ~910,000.
There could be other upside drivers, too. Possible catalysts include the near-term threat of additional Covid inflicted lockdowns which could grow subs/limit churn, whilst FUBO's plans for a free to play gaming function in FY21 "brings optionality to its model longer-term."
Overall, FUBO holds a Moderate Buy rating from the analyst consensus, based on 6 Buys, and 1 Hold and Sell, each. Shares are selling for $38.74, and the average price target of $36.13 implies ~7% downside. But, as Aftahi's comments indicate, there may be much better potential here than first meets the eye. It also should be noted that FUBO earns a 10 Smart Score on TipRanks. (See FUBO stock analysis on TipRanks)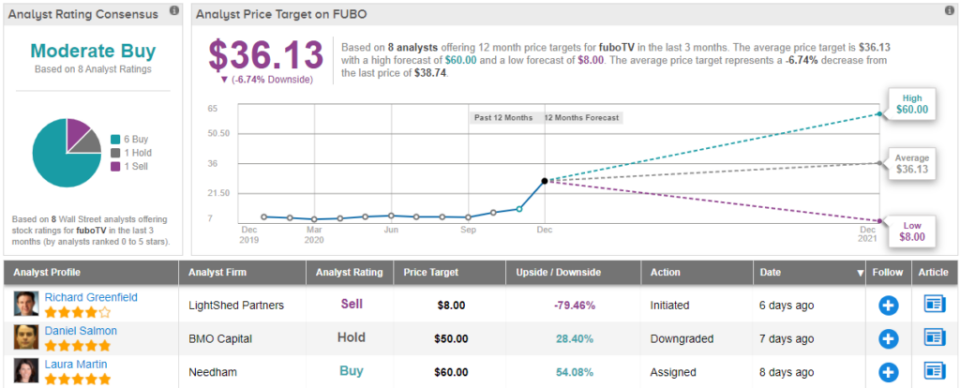 To find good ideas for stocks trading at attractive valuations, visit TipRanks' Best Stocks to Buy, a newly launched tool that unites all of TipRanks' equity insights.
Disclaimer: The opinions expressed in this article are solely those of the featured analyst. The content is intended to be used for informational purposes only. It is very important to do your own analysis before making any investment.