Wednesday, December 16, 2020
Get the Morning Brief sent directly to your inbox every Monday to Friday by 6:30 a.m. ET. Subscribe
Economists always talk about inflation. Here's what they're saying about 2021.
Forty years ago, then-Federal Reserve Chair Paul Volcker undertook drastic actions to fight inflation.
Volcker cranked up interest rates and forcibly tipped the economy into recession. The strategy worked, thus kicking off a multi-decade decline in interest rates and inflation.
The actions of the Volcker Fed and the ripple effects they've had across markets are for many investors the defining features of the investment landscape today. Against this backdrop, then, it is only natural that fears about inflation are an evergreen topic of conversation for investors and economists at the beginning of each new year.
And 2021 is no exception.
In its latest Global Fund Managers' Survey published Tuesday, Bank of America Global Research finds that the second-biggest tail risk for markets next year is inflation.
But with the economy digging itself out of a pandemic-induced hole, fiscal and monetary authorities showing little desire to pull support for the recovery, and a sustained rise in inflation having not been an economic reality since the 1990s, fears over inflation should remain mostly sidelined in 2021.
"Outside a handful of sectors, consumer price inflation is likely to remain benign next year, even as economic growth strengthens," Renaissance Macro's Neil Dutta wrote in a piece published by Business Insider on Tuesday.
Dutta notes that outside of commodity price changes, inflationary trends move slowly. The increase in prices for goods and services deemed "sticky" has also been slowing, and inflation pressures this year have been largely focused in health care (for obvious reasons).
Writing in a note to clients published Tuesday, Goldman Sachs economists Kamakshya Trivedi, Zach Pandl, and Dominic Wilson, argue that, "given the unusual nature of this lockdown-driven recession and vaccine-led recovery, price pressures at least in some sectors could emerge earlier than in past cycles."
"Given our bullish commodity forecasts, bearish Dollar views, and headline CPI forecasts — our economists see a jump to 3.1% year-over-year in the U.S. CPI in May on positive base effects — the market debate about inflation risks and Fed pricing will probably pick up in the New Year," they add.
And indeed, if we look at 5yr/5yr breakevens — which show expected inflation over the next five years starting in five years' time — there has been some uptick in inflation expectations among market participants.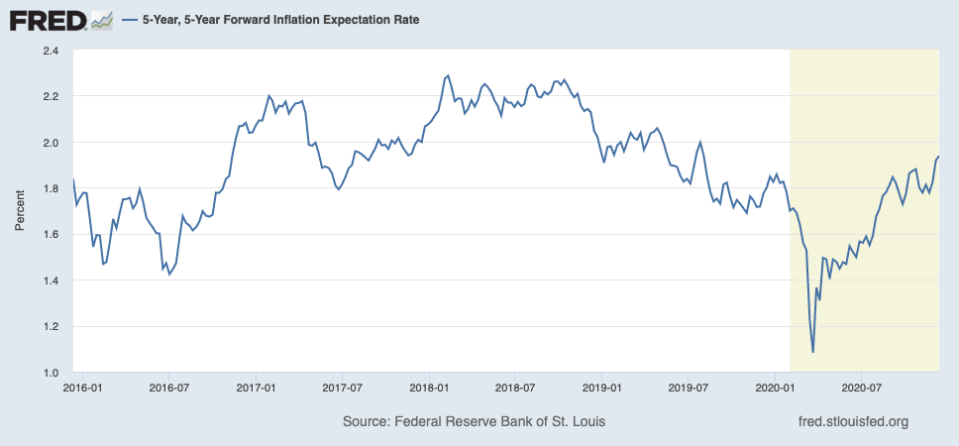 But the ultimate arbiter of how much any change inflation really matters is the Federal Reserve.
Either inflation pressures push the Fed to make monetary policy less accommodative or they don't.
And as far as Goldman is concerned, inflation will not changing any central bank calculus next year, even as the firm expects longer-dated government bond yields could rise as the economy strengthens.
"We do not believe that G10 central banks will worry too much about core inflation given still substantial economy-wide output gaps," Goldman writes, "so it is not hawkish central banks but these higher inflation risks that underpin our (mildly) bearish G10 duration views."
On Wednesday, the Federal Reserve will release its final policy statement of the year and publish an updated set of economic forecasts, which includes the Fed's inflation outlook. As of September, no Fed official saw inflation hitting 2% in either 2021 or 2022. Investors will be closely watching for any changes to this forecast later today.
As Yahoo Finance's Brian Cheung noted in his preview of this meeting, "As of November, the Fed's guidance on rates was to keep interest rates at rock bottom until the economy appears to be at maximum employment with inflation at 2% and 'on track to moderately exceed' that target 'for some time.'"
In plain English, this means the Fed doesn't expect inflation to impact its outlook anytime soon.
Of course, this doesn't preclude there being some inflationary pressures next year as the economy opens up and virus-unfriendly activities are resumed. Indeed, this is to be expected.
"There might be insatiable demand for recreational services (flights, hotels, casinos, theme parks, dining out)," Dutta writes. "That would be welcome, but would not really amount to much since these areas make up only 5% of total consumption."
The price of some goods going up does not mean the price of all goods must go up. And so expected pockets of inflation doesn't mean we'll see widespread inflation in 2021.
But we'll almost certainly see people worry about it.
By Myles Udland, reporter and anchor for Yahoo Finance Live. Follow him at @MylesUdland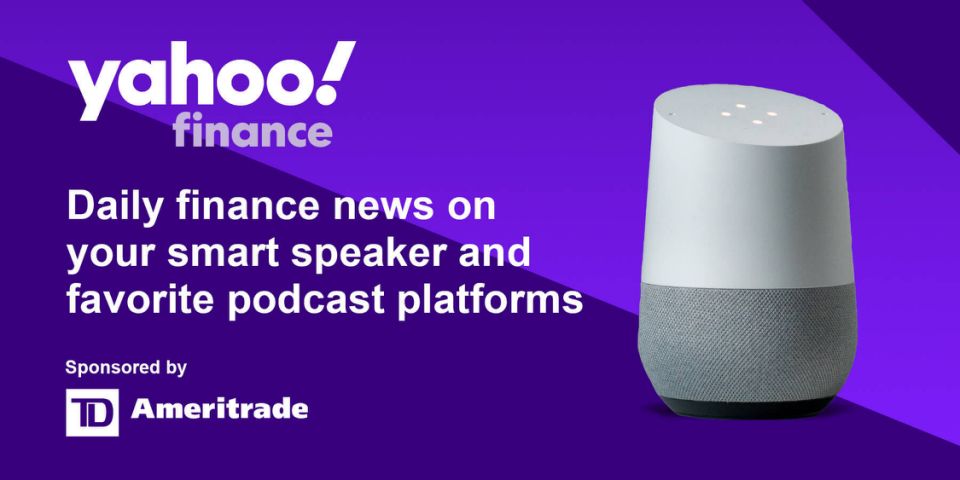 What to watch today
Economy
7:00 a.m. ET: MBA Mortgage Applications, week ended Dec. 11 (-1.2% during prior week)

8:30 a.m. ET: Retail sales advance month-over-month, November (-0.3% expected, 0.3% in October)

8:30 a.m. ET: Retail sales excluding autos month-over-month, November (0.1% in November, 0.2% in October)

8:30 a.m. ET: Retail sales excluding autos and gas month-over-month, November (0.2% in November, 0.2% in October)

9:45 a.m. ET: Markit US manufacturing purchasing managers index, December preliminary (55.8 expected, 56.7 in November)

9:45 a.m. ET: Markit US services PMI, December preliminary (56.0 expected, 58.4 in November)

10:00 a.m. ET: Business inventories, October (0.6% expected, 0.7% in September)

10:00 a.m. ET: NAHB Housing Market Index, December (88 expected, 90 in November)

2:00 p.m. ET: FOMC Rate Decision
Earnings
Top News
COVID-19 vaccine optimism and US stimulus progress drive European stocks higher [Yahoo Finance UK]
Negotiators report progress on long-delayed COVID aid bill [AP]
Wish is poised to price IPO at least at top of range [Bloomberg]
World Economic Forum: No country is fully prepared for 11 priority areas to battle COVID-19 effects [Yahoo Finance UK]
YAHOO FINANCE HIGHLIGHTS
Tesla is a 'prime' candidate to see its stock plummet after it enters S&P 500, analyst says
MacKenzie Scott, Amazon CEO Jeff Bezos' ex-wife, donates $4.2 billion in last four months
—
Follow Yahoo Finance on Twitter, Facebook, Instagram, Flipboard, SmartNews, LinkedIn, YouTube, and reddit.
Find live stock market quotes and the latest business and finance news
For tutorials and information on investing and trading stocks, check out Cashay