Covid-19 has been responsible for a complete shift in how society operates. On a lighter note, it has also brought with it a whole new world of terminology. For investors there has been the addition of the term, "coronavirus stocks." Those are the names which have come to the fore during the pandemic, offering potential vaccines and therapeutics to help us get back to normal.
Novavax (NVAX) is possibly the ultimate "coronavirus stock." It has certainly been the most profitable. The vaccine specialist's shares have appreciated by a humongous 2790% throughout the year, as investors have pinned their hopes on the company's Covid-19 vaccine candidate NVX-CoV2373.
But with several of its rivals already nearing the finish line with their respective vaccine candidates, will Novavax be remembered for just delivering massive returns or does it still have a meaningful part to play in the rollout of global Covid-19 vaccines?
For J.P. Morgan analyst Eric Joseph, the answer is the latter.
"We continue to view NVX-CoV2373 as having a well-differentiated positioning in the overall COVID-19 vaccine space, both clinically and logistically, and believe current levels under-reflect its long-term commercial potential," Joseph said.
Joseph rates NVAX an Overweight (i.e. Buy) along with a $215 price target. The implication for investors? Upside of ~87%. (To watch Joseph's track record, click here)
The latest endorsement comes despite a delay to NVX-CoV2373's U.S. & Mexico Phase 3 study. However, following the FDA's positive review of the Phase 2 data, all that remains is the agency's review of Novavax' commercial-scale production at the North Carolina facility, for the trial to be given the go ahead. This should happen in the coming weeks.
Meanwhile, NVX-CoV2373's Phase 3 U.K. trial and phase 2b study in South Africa are both fully enrolled, with efficacy readouts slated for 1Q21.
"While the trial is expected to primarily support approvability in major ex-US markets," joseph said, "Given the standardized trial protocol across the COVID-19 vaccine space, the company believes a robust data set (with consistent data in the SA study) could potentially support a faster regulatory pathway in the US as well."
Looking at the consensus breakdown, based on 4 Buys and 1 Sell, Novavax gets a Moderate Buy rating. The analysts' forecast is for ~62% of upside, given the average price target clocks in at $186.20. (See NVAX stock analysis on TipRanks)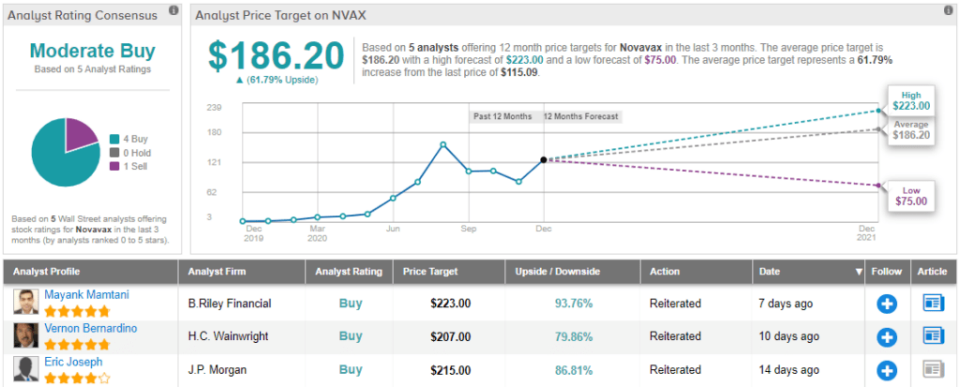 To find good ideas for healthcare stocks trading at attractive valuations, visit TipRanks' Best Stocks to Buy, a newly launched tool that unites all of TipRanks' equity insights.
Disclaimer: The opinions expressed in this article are solely those of the featured analyst. The content is intended to be used for informational purposes only. It is very important to do your own analysis before making any investment.