When a stock starts dropping, investors have to ask two questions. First, why it's dropping? Is something wrong with it? Or is it just facing a storm of circumstance, but is otherwise sound? If the latter, then the second question comes into play. Has this stock hit bottom?
When a sound stock hits bottom, that's a signal for investors to buy in. You can't go wrong buying low and selling high, but you do have to know when 'low' is happening – otherwise you can miss your chance to maximize the profits.
Wall Street's analysts make their reputation by calling stocks right. Lately, some of these analysts have been tapping several apparent down-and-out equities as prime candidates for strong gains. These are stocks that, based on the TipRanks data, fit a profile: each has fallen on hard times during 2020; each has an average upside that starts north of 40%, and each has at least one analyst saying it's likely to make radical gains in 2021.
Benefitfocus (BNFT)
We'll start in the world of benefits management, an important sector that impacts a number of fields. Employers, insurance brokers, health plans, and retail partnerships all offer benefits to consumers of various stripes – and Benefitfocus offers a tech solution to make benefit administration easy. The company offers a software platform specifically designed to handle the HR and data aspects of benefits programs, from enrollment to management.
This niche can be a two-edged sword, however. In good times, with benefit programs swinging, everyone will want in – but in bad times, Benefitfocus has found itself unable to regain traction. The company's stock is down 42% year-to-date, and the third quarter results showed continuing year-over-year losses. Revenue is down 11% yoy, to $63.6 million, with declines across all of the company's main segments: software revenue, subscription revenue, and platform revenue.
At the same time, there were positive developments. Lincoln Financial Group and PayActive joined Benefitfocus as catalog suppliers, and the company held its first open enrollment with the University of Texas system. The company also ended Q3 with $176 million in cash on hand.
These quarterly results came as Benefitfocus brought in new management. The company announced Stephen Swad as the new CEO, with his CFO position being filled by Alpana Wegner. In addition, the company announced new hires for the Chief Data Officer and EVP, Product & Engineering positions. These are major moves, that portend a new outlook at the top.
Covering this stock for Piper Sandler, 5-star analyst Sean Wieland writes of BNFT: "With new mgmt at the helm, we sense a renewed energy moving the business forward. SaaS offerings are an area of focus, going head first into the B2B2C channel while de-emphasizing the direct to consumer business. Health of this customer base continues to trend above expectations, with a positive benefit fromgig workers, increasing net eligible lives 8.3% y/y to 18.2M. OEP fits into this positive narrative, as mgmt is happy with progress thus far, seeing continued strength as the selling season progresses."
Wieland's bullish outlook is also supported by his Overweight (i.e. Buy) rating and $29 price target, which implies a 132% one-year upside. (To watch Wieland's track record, click here)
Overall, Wall Street appears to be in agreement with Wieland on BNFT. The stock has a Strong Buy consensus rating, based on 3 Buy reviews and 1 Hold. Shares are selling for $12.50 and the average price target, at $17.67, suggests room for a 41% upside in the next 12 months. (See BNFT stock analysis on TipRanks)
Momo, Inc. (MOMO)
Next up is Momo, the Chinese social media mobile app. This company offers customers a free smartphone app for social posting and instant messaging, and monetizes the service through the usual routs of third-party services and paid subscriptions for upgrades.
Momo has badly underperformed this year, however, having lost 54% year-to-date. The company's fiscal third-quarter came in below expectation, with earnings at 30 cents per share and revenues at $3.9 billion. These numbers were down significantly year-over-year, especially the EPS, which showed a 40% yoy drop. Revenue and earnings peaked in 4Q19, as the corona virus started to break out – and its has yet to recover.
Like BNFT above, Momo has had management changes in the calendar third quarter. The company brought on board a new Executive Chairman as well as a new CEO. It is hoped that the new blood will bring new energy at the top. The new CEO, Li Wang, previously served as company COO since 2014.
Leo Chiang, of Deutsche Bank, acknowledges that Momo is in a tight spot, but believes the company can chart a course out.
"Momo app is navigating to focusing on content ecosystem, user engagement and community activity to revitalize middle and long tail users, instead of exploiting top paying cohort, whose spending sentiment has been impaired significantly post pandemic. The process has begun in early August and management expects it to last for 6 months. We believe it could lead to a healthier long-term prosperity for a social app," Chiang noted.
Chiang sets a $25 price target here, indicating a possible 68% upside potential, to go along with his Buy rating. (To watch Chiang's track record, click here)
The analyst consensus here is a Moderate Buy, based on 8 reviews that include 3 Buys and 5 Holds. The stock's average price target of $21.49 suggests a 45% upside from the current share price of $14.83. (See MOMO stock analysis on TipRanks)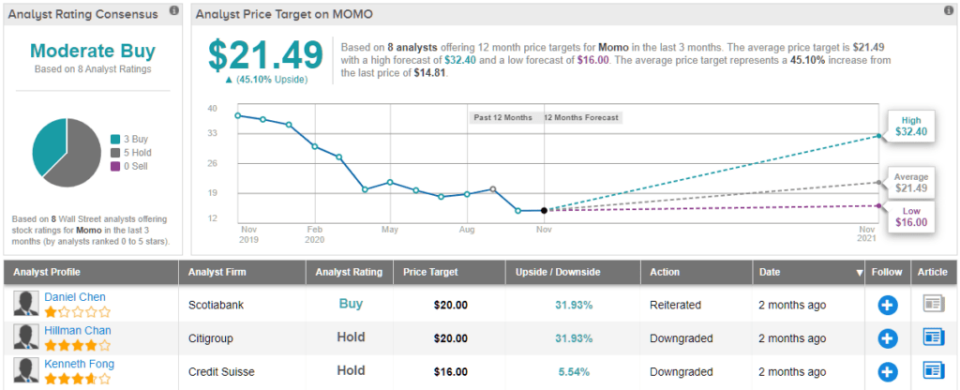 To find good ideas for beaten-down stocks trading at attractive valuations, visit TipRanks' Best Stocks to Buy, a newly launched tool that unites all of TipRanks' equity insights.
Disclaimer: The opinions expressed in this article are solely those of the featured analysts. The content is intended to be used for informational purposes only. It is very important to do your own analysis before making any investment.