Just Another Week in Chicago is a regular column about Chicago baseball
When it comes to his new role as the Cubs' third-base coach, Willie Harris works hard to keep it simple.
Before this three-game series began, Harris said he spent an hour watching video of the Brewers' outfield to help inform the decisions that could decide a game.
He knows everyone blames the third-base coach when a runner gets thrown out at the plate, but he's willing to risk it. If you know Harris, you understand he's not losing sleep over his job.
"That's why I tell them all the time, 'Hey, I got a motto and it's called send 'em. Send 'em. I want everyone to know that I'm sending you,'" he said before the Cubs' 14-4 loss to the Brewers on Monday, one in which Joc Pederson got thrown out at third base thanks to a nice play from the Brewers defense.
Harris, who recently turned 43, has been noticed mostly for his energy in the coach's box. If you know Harris, it's not a surprise.
"It's not something that I try to do," he said. "It's just I wake up like that every day, man."
Harris is in his first year in this role, after getting hired away from the Reds organization. He spent the pandemic season at Cincinnati's alternate site but is back in a big-league dugout for the first time since his 12-year playing career ended with the Reds in 2012.
He managed the White Sox's Class-A team in Winston-Salem in 2017 and the Double-A Richmond Flying Squirrels in the Giants' organization for two seasons before joining the Reds as their base running and outfield coordinator.
Harris, who was known for his speed as a player, said he used to think he knew a lot about base running before hooking up with David Ross this year.
"Rossy sees a lot of different things that go on in the game," Harris said. "And he sees things that I didn't normally see, but I see now. And what I mean by that, just to give you an example is like, as far as running. I call myself a base stealer. I'm like, I know how to steal a base. But it's not about knowing how to steal the base, it's picking the right situations and talking to him and seeing how he does things from a catcher's perspective on what a pitcher might be throwing in these particular situations. I picked up a ton of different scenarios from him."
What did he learn from his days playing for Ozzie Guillen?
"I learned to be myself," he said. "I learned to be authentic. Being around Ozzie and being around that team, I learned the importance of being who you are and not trying to just fit in. I think it's very important to be who you are. Some people are gonna like you, some people aren't. They just have to deal with it. But it's better for you. And it's better for the team that you're being authentic. You know what I'm saying?"
Harris still talks to White Sox teammates. He caught up with Jon Garland at a Cubs-Dodgers game last week and speaks to Jermaine Dye, Joe Crede and Carl Everett, among others. He laughed when I brought up Juan Uribe, who is still everyone's favorite teammate, despite the fact, as Harris remembered, Uribe only knew "maybe two" names on the team.
"And that was his (first name) and his last name," Harris said.
Harris has plenty of stories from his time with the White Sox — he specifically mentions some Frank Thomas tales — and people have stories about him.
A few years ago, I was in Troy, N.Y., interviewing Ozney Guillen when he was a minor-league manager and he mentioned Harris walking up and down the dugout going, "If you want to win, put Willie in."
Harris remembers the moment, and from his recollection, it set up the biggest moment of his career, his pinch hit single to lead off the eighth inning in Game 4 of the 2005 World Series. Harris scored the only run of the clinching game on Dye's two-out single off Brad Lidge.
"We were in Houston in Game 4," Harris said. "And I was telling (Guillen) and I think that was right around the time it was a movie out ("Friday Night Lights," which came out in 2004) with a running back. His name was Boobie. He was like, 'If you want to win, put Boobie in and watch me spin.' And so I kind of took that. And, you know, it was just something for the guys, we had fun. And I had an opportunity right there, Ozzie believed in me, put me in a spot and came through."
Harris said he tried to manage like Guillen during his minor-league days, encouraging his players to show their personalities in what can be a crucible of pressure.
While Guillen would have welcomed a chance to replace Rick Renteria, it was Harris who was interviewed to be the White Sox manager this past winter.
"I mean, obviously they went with a more experienced guy," Harris said of Tony La Russa, who started managing the White Sox when Harris was 1 year old. "And I can understand that completely."
Harris said he was surprised when he got a call from Buddy Bell, who went from the Sox organization to the Reds in 2017, and the Reds' vice president of player development Shawn Pender.
"They said, 'Hey, the White Sox want to interview you to be the manager.' And I'm like, 'What? I haven't even been like a major-league coach yet,'" said Harris, who spent the offseason watching his stepson Tre'Vez Johnson play football at the University of Florida. "This is my thinking. But I'm like, cool. Let's go through this process. Just to get the experience, so maybe down the line if it happens again, I kind of know what to expect. Did I think I had a chance of getting that job? Personally, I didn't know. But if I had to say yes or no, I'd say no, just being honest with myself. But I did come up in that organization as a player and as a coach. I know half of that major-league roster. It would have been a great fit for me to become a manager for the first time."
Harris said he's talked a lot with his old third-base coach in Chicago, Joey Cora, about doing this job. Cora is now the third-base coach in Pittsburgh and has plenty of wisdom to share. But really it's all on-the-job training. What's the toughest part about the gig?
"The toughest thing for me is when I look out there at second base, and one of my guys is getting a horseshit secondary lead," Harris said. "And now a base hit happens and I got to decide whether or not to send him. So I really just talk to my guys. I let them be themselves, go play your game, just give me a good secondary here. That's all I ask."
As we talked at the dugout railing, Harris looked around at the empty ballpark, enjoying the calm before the game and stressing just how lucky he is.
"It's been a blessing, man," he said. "I'm grateful. A lot of people don't get these opportunities, I was telling my mom the other day. There are 30 major-league third-base coaches and I'm one of 30."
---
One of the delightful scamps of the Section 108 collective pointed to a very real topic over the weekend as the White Sox opened to full capacity. The concession lines were at an inning length and vendors were nowhere to be seen.
Been like this all game….

We NEED vendors BACK…..#WhiteSox pic.twitter.com/F4WowzGrdx

— Section 108 (@fromthe108) June 26, 2021
So why haven't you seen vendors at White Sox games this season? Well, they're there. Sometimes. But there aren't a lot of them.
I called up Vince Pesha, a vice president of SEIU Local 1, which represents ballpark vendors, and White Sox senior vice-president/CMO Brooks Boyer to get answers.
Until this last series, the Sox were only using vendors at stands. Unlike the Cubs, the Sox never ordered the mobile credit-card machines for the seat vendors.
But starting last weekend, the Sox added an option to their Ballpark app that allowed fans to order food to their seats that used the vendors as deliverymen. Needless to say, there wasn't a ton of interest from the rank-and-file SEIU members. Pesha and his crew tried to get 40 people to deliver to the seats at Sox games and could only get 15.
"Fifteen vendors for 30,000 people," Pesha said. "They asked for 40 just so we can learn (to use the system). If this was 2019, we would've had 100 people working."
Sure, but in 2019, those 100 vendors could work at their own pace.
But Pesha is also having trouble getting vendors at Wrigley Field, even though I'm told the tips ("donations" in vendor-speak) are at near-record levels thanks to the credit card machines. Drunk people and credit cards are a vendor's dream come true … if they can work the machines. (I'm told the machines haven't always been working well, another problem.)
"People have been very generous with the credit cards," Pesha said. "It's wonderful because they appreciate the people working and bringing them (beer) and serving them. Yeah, they've done well."
Pesha said they went through about 169 names to find 51 people to work the last Cubs series. The Cubs wanted 75. The dearth of vendors has led to long concession stand lines at Wrigley, as well. Pesha said they're constantly hiring new workers, but he's noticing a lot are quitting after a game or two.
Losing a year of work at the stadiums and ballparks has decimated the vendors' union, especially those who are used to a regular income working at both ballparks, Soldier Field and the United Center.
And while Pesha said he thinks enhanced unemployment benefits are keeping some people home, he also admits there are other factors affecting his particular workforce.
Some vendors, like ballpark legends Lloyd Rutzky and Ira Young, used the break to hang up their beer openers. Some don't want to deal with the new technological hassles of what has become a cash-free job.
Other longtime vendors have just moved on to different jobs. Some vendors are still nervous about working in big crowds.
So, are the days of the ballpark vendor over?
"I'm gonna tell you and you're probably going to laugh at me, but it's a dying art, right?" Pesha said.
But if the vendor is an endangered species, they're not expired yet. In fact, if you're looking for extra work, there are a lot of available vendor jobs for the rest of the season.
"Listen, if you can put that in there, these concession companies are hiring people within a week," Pesha said. "So you sign up Tuesday, next week you're working."
Now, that doesn't mean you'd be selling beer in the 100 level of Wrigley right away — union seniority rules remain — but if you have some hustle and love baseball, there's a shoulder strap with your name on it.
Hey, I wonder if this badge will still get me in?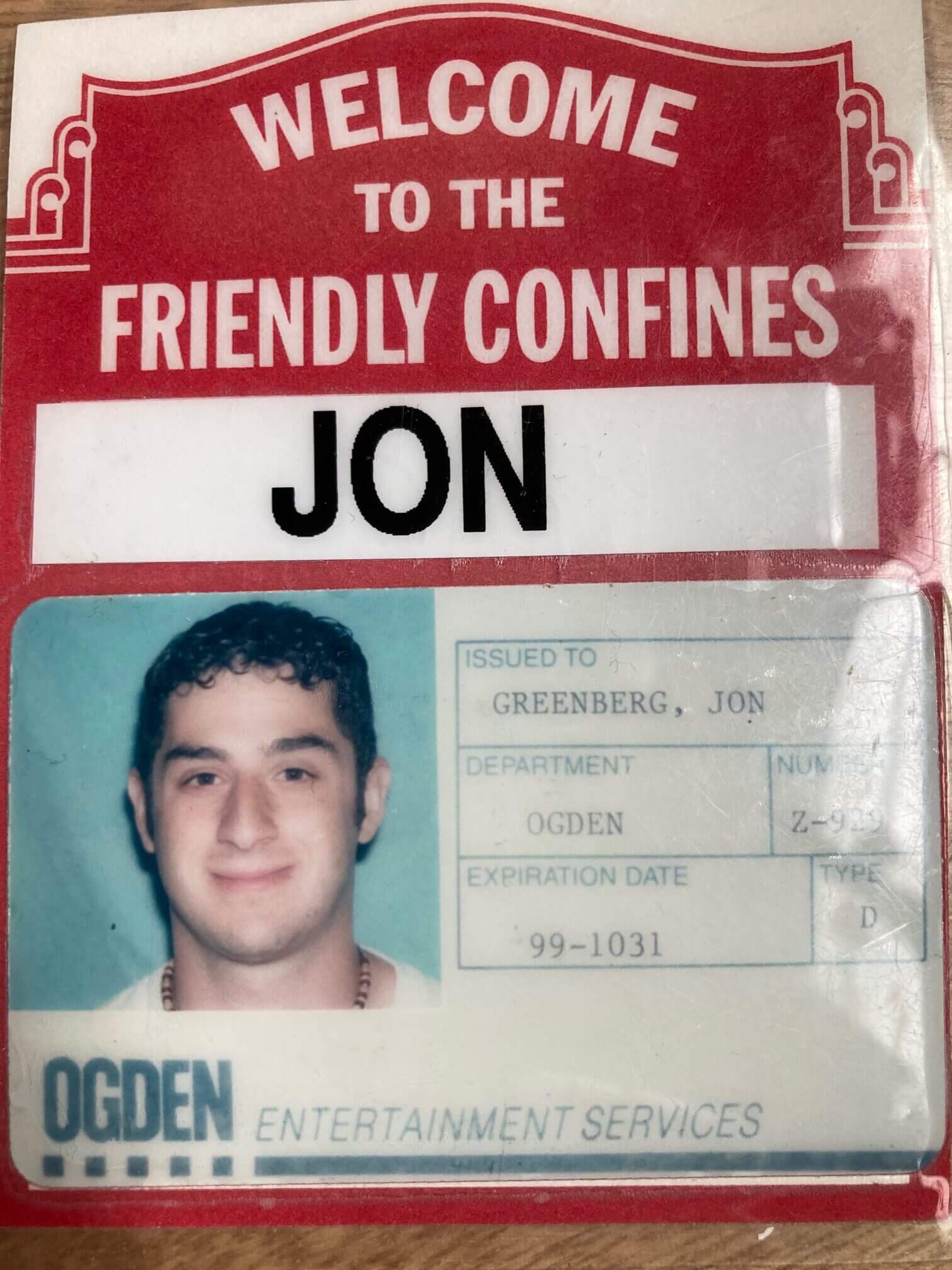 ---
Jon "Boog" Sciambi and Jim Deshaies drove up to Milwaukee on Monday. And they were met in the adjoining booth by Pat Hughes, Ron Coomer and Zach Zaidman, along with their production teams.
For the first time since the 2019 season, the Cubs were on the air on the road. And after chatting with them, I can tell you they were thrilled to be there, even as the Cubs got wallopped. Hey, it's a lot easier seeing a Keston Hiura homer and a Jackie Bradley Jr. double with your own two eyes.
Sciambi and Deshaies are the first TV team in all of baseball to call a road series in person. This should be something to brag about, right?
Interestingly enough, Marquee Sports Network, which made commercials about how the broadcasters didn't have to wear dress shirts and ties anymore, didn't make a big deal out of it. No tweets alerting Cubs fans that a change had happened. The word is Marquee is going back on the road for good, but no one's really talking about it.
It's odd because it seems like something the fans would rally around.
It's a tricky situation because Marquee is committed to a return to quality road broadcasts rather than relying on calling the game off monitors from Wrigley Field while utilizing a frustratingly uneven "world feed." But Marquee is a joint partnership with Sinclair Broadcast Group, which now owns all of the old FSN affiliates under the new Bally Sports umbrella.
And many Bally Sports stations don't seem interested at all in a return to the road. When I talked to Bally executive vice president Michael Connelly earlier this month for this story on broadcast travel, he said travel wasn't unilaterally shut down across the Bally network for the entire season. But he couldn't promise that every team (or any team) would do it.
"We're going to leave it team to team," he said.
Bally Sports Wisconsin reporter Sophia Minnaert traveled to a series in Cincinnati earlier this month. From what I heard that was a trial run for the Bally collective but no one seems too excited about expanding it. The Brewers wouldn't make anyone available to talk about the situation.
Marquee sent its reporter Elise Menaker to Los Angeles for the Dodgers series and it really improved the remote broadcast because she was able to interview Craig Kimbrel on the field after he finished off the combined no-hitter. It was the first time Marquee had a full postgame interview on the field since its inception last season.
If Marquee is going to travel all season, for now, the broadcasters will have to drive or fly commercial until MLB relaxes its 85 percent vaccination rule. If a team isn't at 85 percent, the broadcasters can't fly with the team, and the Cubs aren't anywhere close. (Outside of the series they want to drive to, Cubs radio won't be traveling until they get back on the charter.)
Chris Myers will join Deshaies this weekend in Cincinnati. The Cubs don't play another road series until after the All-Star break when they play seven games in Arizona and St. Louis.
What about the White Sox and NBC Sports Chicago?
Nothing is formalized yet, but Jason Benetti and Steve Stone will start traveling again after the All-Star break. The Sox's first road trip after the break is from July 23-29 in Milwaukee and Kansas City. Like the Cubs, the Sox like the idea of starting in Milwaukee, just in case anything goes wrong.
---
I didn't make it to a ballpark-adjacent restaurant this week, so I'll give you a place I frequented during my pandemic coverage of the White Sox: Stix n Brix Wood-Fired Pizza on 218 W. 33rd St.
No, it's not Chicago tavern style. Sorry, local pizza snobs. But if you're not looking to mix it up at Turtle's and you don't want to hit up the nearby hot dog stands, this is a solid option before a Sox game. I mean, look at this pizza. It tasted great too.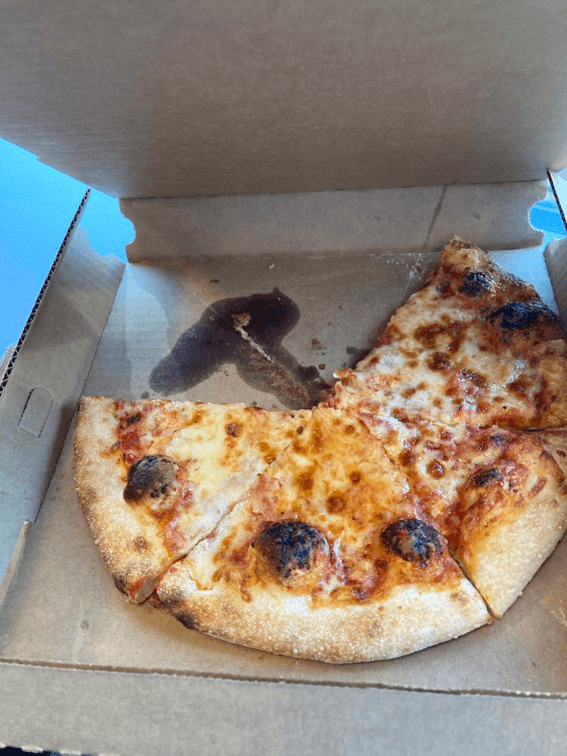 It's not famous like Phil's, but it's a solid pizza.
---
In retrospect, I regret not taking a picture of a Brewers fan in his throwback Eric Sogard jersey Monday. Because I didn't find a truly unique one at Formerly Miller Park. But in a continuation of last week's theme, here's a Cubs fan in a Kosuke Fukudome jersey. It took me about five seconds to find her when I walked into the concourse.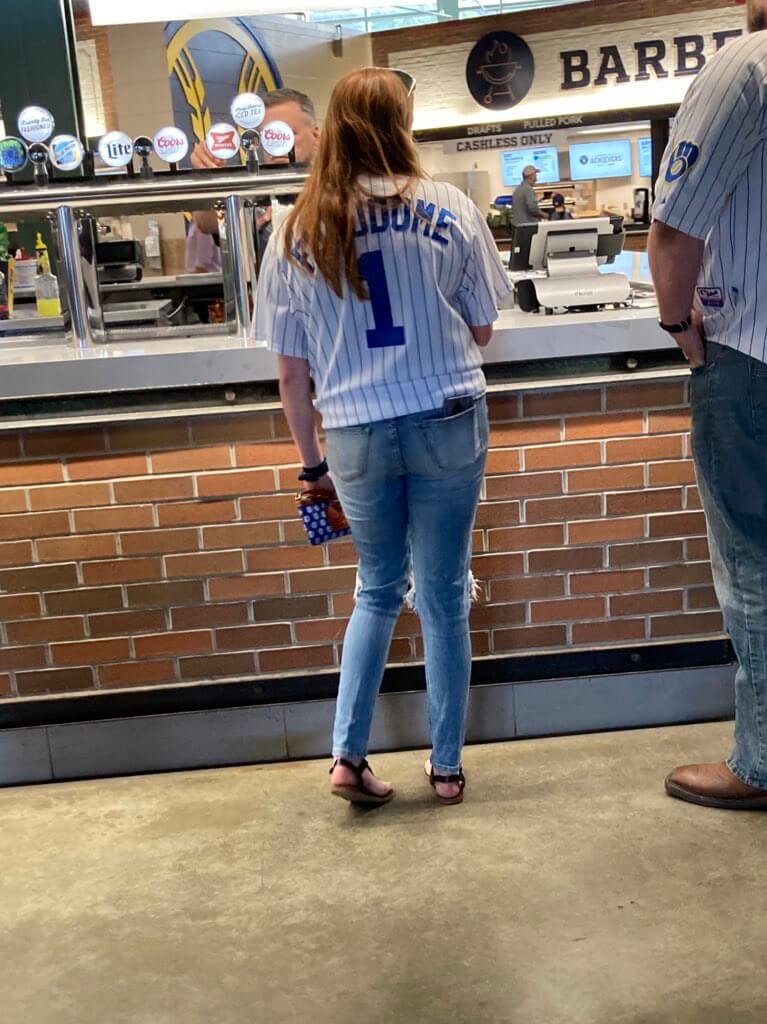 Maybe this should be a weekly Fukudome jersey feature?
(Top photo of Willie Harris: Kamil Krzaczynski / USA Today)
Get all-access to exclusive stories.
Subscribe to The Athletic for ad-free, in-depth coverage of your favorite players, teams, leagues and clubs. Try a week on us.