A resurgence of coronavirus cases in several countries and a new COVID-19 variant identified in the UK are boosting fears over a slew of lockdown and travel restrictions. Meanwhile, favorable developments on the vaccine front are keeping up hopes of bringing the pandemic under control. Earlier this month, the COVID-19 vaccines developed by Pfizer and its German partner BioNTech, as well as that by Moderna were granted emergency use authorization by the U.S. Food and Drug Administration. Other drugmakers are also lining up to have their vaccines approved given the massive global demand.
Two such companies that are working on potential COVID-19 vaccines are Novavax and Inovio Pharmaceuticals. We will use the TipRanks' Stock Comparison tool to stack up these two companies against each other and pick the stock offering a more compelling investment opportunity.
Novavax (NVAX)
Novavax uses its proprietary recombinant nanoparticle technology platform to develop vaccines for infectious diseases. The company's COVID-19 vaccine candidate, NVX-CoV2373, is currently being evaluated in an ongoing Phase 3 trial in the U.K. and a Phase 2b trial in South Africa. Enrollment has been completed in both these trials. Interim data for the U.K. phase 3 trial is expected as early as the first quarter of 2021.
Meanwhile, Novavax's COVID-19 vaccine candidate is also undergoing a Phase 1/2 trial in the U.S. and Australia. On Nov. 30, the company announced that it expects its pivotal Phase 3 clinical trial in the U.S. and Mexico to begin "in the coming weeks". The timing of the trial has already been delayed twice.
B. Riley Financial analyst Mayank Mamtani pointed out that Novavax stock has been largely range-bound in 4Q as the delay of the Phase 3 clinical trial in the U.S. has sparked investor concern about execution risk.
That said, the 5-star analyst highlighted strong execution of the Phase 3 U.K. study, which is tracking ahead of schedule, and stated "We recognize the highly binary nature of the readout given elevated VE [vaccine efficacy] bar, and remain favorably biased towards our bull case scenario of NVAX's best-in-class immunogenicity translating into 90%+ VE as well as differentiated target product profile in terms of reactogenicity and ease of transport/storage to result in '2373's preferred global C-19 vaccination solution, which ultimately does translate in meeting/exceeding our and consensus revenue estimates of $3B+ in projected revenues for 2021E."
Overall, Mamtani continues to be bullish on NVAX and reiterated a Buy rating with a $223 price target (upside potential of 74.7%) on Dec. 23. (See NVAX stock analysis on TipRanks)
Aside from the NVX-CoV2373 COVID-19 vaccine, Novavax's pipeline also includes NanoFlu, a quadrivalent influenza nanoparticle vaccine, which met all primary objectives in its pivotal Phase 3 clinical trial in older adults and will be advanced for regulatory submission.
Currently, the rest of the Street has a cautiously optimistic outlook on the stock with a Moderate Buy analyst consensus backed by 5 Buys and 1 Sell. Shares have skyrocketed by 3107% so far this year. Looking ahead, the average price target of $188.50 indicates additional upside potential of 47.7% from current levels.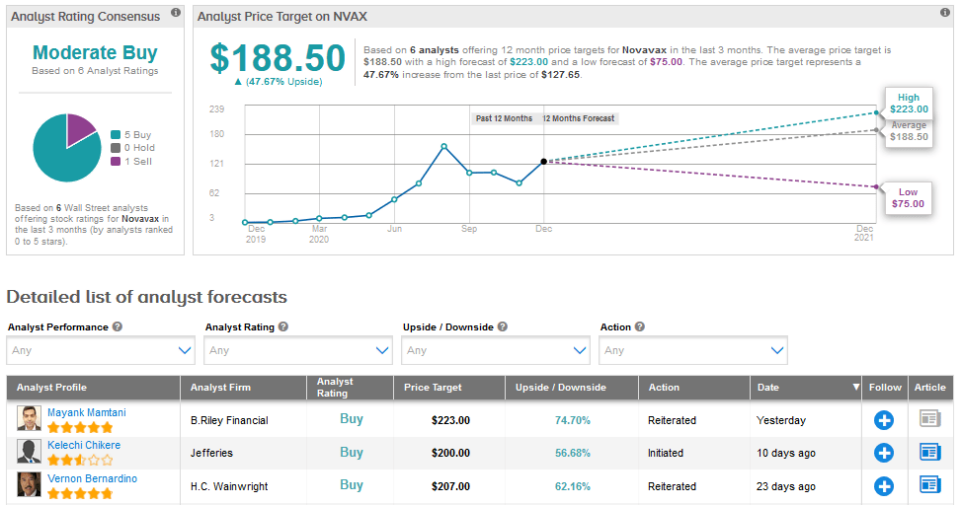 Inovio Pharmaceuticals (INO)
Inovio's pipeline currently has 15 DNA clinical programs for treating HPV (Human Papillomavirus)-associated diseases, cancer and infectious diseases, including COVID-19 coronavirus. The company was one of the early movers to kick off the development of a COVID-19 vaccine. However, along the way, its development was slowed down by a number of setbacks, including manufacturing and regulatory issues, which delayed the clinical trials.
Notably, in September, the FDA put Inovio's planned Phase 2/3 trial (called Innovate) of its COVID-19 vaccine candidate INO-4800 on partial clinical hold as the US regulator had additional questions about the trial, including the Cellectra 2000 delivery device to be used to deliver the vaccine into the skin cells.
In November, the company received FDA clearance to proceed with the Phase 2 segment of its planned Phase 2/3 clinical trial for INO-4800.
Earlier this month, Inovio dosed its first participant in the Phase 2 segment of the Phase 2/3 Innovate clinical trial. The Phase 2 segment of the trial will enroll about 400 participants who are 18 years or older at up to 17 U.S. sites. The company expects to complete the Phase 2 segment enrollment by the end of December.
Currently, the Phase 3 segment of the trial remains on partial clinical hold until the company satisfactorily resolves the FDA's remaining questions related to the Cellectra 2000 device. Inovio plans to address the remaining questions during the Phase 2 segment and prior to the start of the Phase 3 segment of the trial. (See INO stock analysis on TipRanks)
On Dec. 10, Inovio along with Advaccine Biopharmaceuticals Suzhou Co. announced the successful dosing of its first participant in the Phase 2 clinical trial for the COVID-19 vaccine candidate in China. The enrollment of about 640 participants in this trial is expected to be completed by the end of this month.
Recently, Inovio announced that the company along with a team of scientists from The Wistar Institute, AstraZeneca, the University of Pennsylvania, and Indiana University received a $37.6 million grant from the U.S. Defense Advanced Research Projects Agency (DARPA) and the Joint Program Executive Office for Chemical, Biological, Radiological and Nuclear Defense. The grant has been awarded to use Inovio's DNA-encoded monoclonal antibody (dMAb) technology to develop anti-SARS-CoV-2-specific dMAbs which could offer versatile capabilities to function as both a therapeutic and preventive treatment for COVID-19.
In reaction to this update, H.C. Wainwright analyst Ram Selvaraju reiterated a Hold rating and stated "The dMAb candidates can be quickly developed and produced in vivo, thus offering a cost-effective and scalable option for the treatment of SARS-CoV-2 infection. Inovio expects to advance dMAb candidates into human clinical trials within one year of funding."
Selvaraju explained that he currently does not have a price target for Inovio due to market valuation and volatility.
Like Selvaraju, the Street is also sidelined on Inovio. The Hold analyst consensus is based on 2 Buys, 5 Holds and 1 Sell. Shares have surged by a staggering 205.2% year-to-date. The average price target of $14.17 implies further upside potential of 40.7% over the coming year.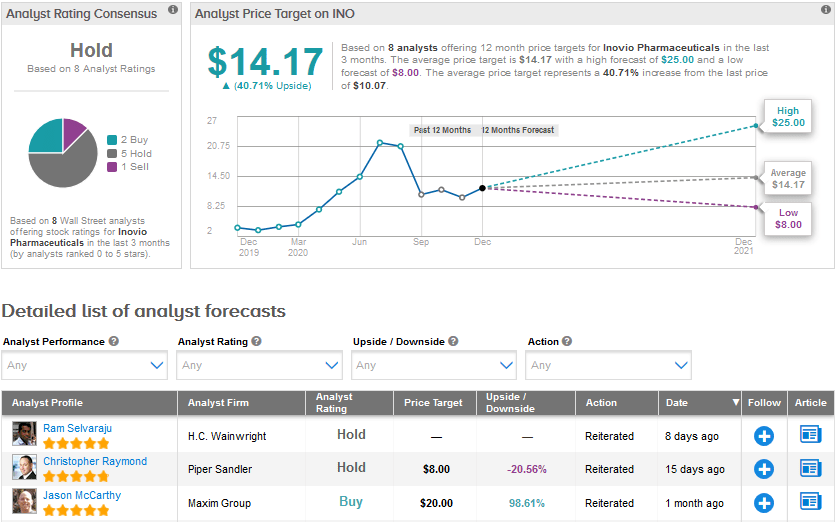 Conclusion
Novavax currently seems to be better placed than Inovio when it comes to COVID-19 vaccine development. What's more, Novavax's NanoFlu influenza vaccine is also progressing in a Phase 3 trial. Finally, the Street is bullish on Novavax and sees higher upside potential in the stock than Inovio, making it a better COVID-19 play right now.
To find good ideas for stocks trading at attractive valuations, visit TipRanks' Best Stocks to Buy, a newly launched tool that unites all of TipRanks' equity insights.
Disclaimer: The opinions expressed in this article are solely those of the featured analysts. The content is intended to be used for informational purposes only. It is very important to do your own analysis before making any investment